Before After Party Cleaning Services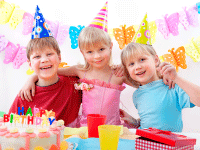 Hosting a party can be an exciting time. While you may love entertaining, if you don't enjoy the cleaning process our before and after party cleaning services could be just what you need. There is no doubt that getting a home clean and ready for an event can be a big job. There are many details related to planning and preparing for an event, so why not leave the cleaning to us? Even on short notice, we can come in and perform a comprehensive cleaning of your home, along with any other special services you may need to impress your guests. We will quickly and discreetly leave your home ready for your event.
Post-party cleanup can be a tremendous amount of work as well, but with our service, you can enjoy your party knowing we are available to handle the cleanup afterwards. We will arrive following the event to remove all traces and return your home to a pre-event condition. We will clean even the worst post-party disaster and mess.
With our before and after party help, you can concentrate on enjoying your guests. There is absolutely no need to miss out on all of the fun of your party or to feel so stressed that you cannot enjoy it.
Let us handle all of the work. We handle the following services:
Pre-party cleaning and setup. This includes vacuuming, dusting, sweeping and mopping of all party areas.
Clean and polish furniture
Set up and organize tables and chairs for your event.
Throw away trash after the event.
Wash and clean dishes and any other party items.
Package leftover food and store it away.
Reorganize furniture in party areas.
Vacuum and mop all floors
Sanitizing toilet and bathroom facilities
Cleaning kitchen surfaces
Window sills, sinks, work-tops, and mirrors
Cleaning fronts of cupboards
No matter how big or how small your party may be, we can handle it all. Don't let the thought of a mess ruin the joy of hosting a party for your friends or family.
We offer party cleaning services for all types of occasions and events, including:
Birthday parties
Large family gatherings
Christmas parties
Baby showers
Retirement parties
Family reunions
Wedding receptions
Please give us a call and let us know how we can help you to make your next party more relaxing and enjoyable. We offer reasonable prices and outstanding customer service.
Our sole goal is to help you relax and ensure your guests rave about what a wonderful time they had at your party. The only thing you need to do is invite your guests and order or prepare your food.