European Cleaning Services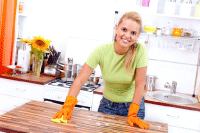 Maintaining and cleaning a home can be a hassle in today's modern and hectic lifestyle. We often are only able to devote the smallest increments of time to cleaning our homes due to numerous outside responsibilities. For working professionals, it can often be difficult to find the time necessary to devote to cleaning tasks. The challenge can be even more difficult for working parents. Cleaning and maintaining a home can also often be difficult for the elderly. While we all want to walk into a sparkling clean home at the end of the day, if you find it difficult to fit cleaning into your schedule, you may find yourself feeling frustrated and stressed-out.
If this situation sounds familiar, and you searching for only the highest-quality cleaning services, our European cleaning services may be just right for your needs.
What sets European style cleaning apart from other types of cleaning services? If you are not familiar with a European style of cleaning, it is a custom designed cleaning service for clients who want their home to be cleaned and maintained to a very high level. Our comprehensive, old-fashion, European cleaning services are the ideal solution when you want cleaning services that are fully personalized.
We offer flexible European cleaning service arrangements. Whether you need weekly, bi-weekly, or monthly cleaning services, we will be happy to accommodate your needs. Our experienced, professionally-trained staff will detail your home from floor to ceiling and handle details that other cleaning services will not. No job is too large or too small for us. We are proud to offer quality European cleaning services customized to meet your specific needs. Some of the services we offer include:
Bathrooms:
Vanity tops
Floors
Mirrors
Toilets
Metal fixtures
Tubs, basins, showers
Kitchen
Window over sink
Refrigerators front and top
Outside of ovens
Inside and outside of microwave
Sinks
Appliances
Countertops
Floor-washed
Other Rooms
Mirrors polished
Furniture dusted and polished
Light fixtures dusted
Mini-blinds dusted
Window sills and baseboards dusted
Carpets vacuumed
Floors dusted and cleaned
Additional Tasks
If you would like for extra tasks to be performed for an additional charge, please let us know:
Inside refrigerator
Steam clean carpets
Silver polishing
Inside of oven
Ironing
Laundry
Remember, this is just a small sampling of what we can cover. Every home has unique needs. Our goal is to always please our customers. This is why we work closely with each customer desiring out European cleaning services to develop a customized cleaning plan based on your requests and needs.
Our experienced staff will clean and care for your home in the same way you would if you had the time to do so. We are happy to offer our valued clients Old World European cleaning services. Allow us to handle your house cleaning needs while you enjoy a higher-quality life!
We encourage you to try our comprehensive European cleaning services for yourself and find out why so many others are making the switch to our services.