Oakville Cleaning Service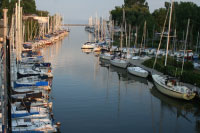 Oakville Cleaning Service offers homeowners what they need to keep their home clean week after week without going over their housecleaning budget. A cleaning service will save a family time and money in the long run by helping them with weekly or household tasks that needs to be completed while other chores are done by the family.
Oakville Cleaning Service area includes a mainly higher-end house that expect quality cleaning services and that is what they receive with A to Z Cleaning Services Oakville, Ontario. Most of the households in this area hire cleaning services weekly or bi-weekly.
When hiring cleaning services to come in to a home, the homeowner should interview the cleaning services owner as well as the individual who will be coming to his home to provide the cleaning. The working relationship between a person providing the cleaning and the homeowner needs to be trusting and open. If the homeowner feels uncomfortable with the individual that will be cleaning his home, then he could request a different cleaning lady.
On the first visit to a house, a cleaner could spend more time then subsequent times because she will clean everything that fist time. If there is anything that a homeowner does not what the cleaner to clean, It is the responsibility of the homeowner to tell the cleaning service before the cleaner comes to the home so they know what their duties will be and what they are not to do for the time they are there. Sometimes a homeowner will have a collection of something valuable and will prefer to handle the cleaning of those items himself.
A homeowner may want the cleaning lady to help them organize their lives so that when the initial cleaning is completed, the entire house is clean and organized and everyday chores and small tasks do not take a long time. Many cleaners are happy to help with the organizing because they know it means helping the homeowner throw away or put away a lot of their extra items they don't really need or use that much.
The best time for Cleaning Services to come to a house is when there is the fewest number of family members home. This may be during a weekday when everyone is at school or work except for the mom who could supervise the person who cleans. Even though the cleaning crews are each bonded and trustworthy, it is always best to have a homeowner at home when the cleaning crew or individual is working on the house.