Online Cleaning Quotes, Why Get Them?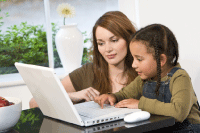 In these recessionary difficult times, many people are holding down two and three jobs in order to pay bills and make ends meet which leaves little time for the necessary household chores such as laundry, dishes and general house cleaning.
A person with several jobs could do something nice for themselves by hiring a housekeeper or a person who comes in and cleans their house every other week or once a month to save themselves time which in their cases is always money.
Many house cleaning companies now offer online clean quotes to save people time and streamline the process because nearly every house has the same type of rooms – kitchens, bathroom, living room and bedrooms. An online quote will be a close estimate of what the cleaning cost will be based on the square footage you provide, however an estimator will have to physically come to the home to view the actual house and take measurements and see what degree of dirtiness the house is in before a final cost can be agreed upon.
Most home cleaning estimates are for hourly cleaning based upon the number of rooms needed cleaning and this is why it is easy to give a broad based general estimate over the Internet.
Once the online estimate form has been filled out, the homeowner presses send and within a matter of seconds, they will receive an online quote for house cleaning. Of course this is only an estimate in an actual estimator will have to come to see the condition of the homeowner's house because some homes are dirtier than others and would require more time to clean.
Having a quick response to an online query for a housecleaning estimates allows the homeowner to collect and review several different quotes from different companies so that they could choose one that best fits their budget along with their scheduling needs.
Most cleaning company's travel with their own vacuum cleaners, mops, brooms and dust pans and other cleaning equipment however the choice of cleaning supply products would be up to the homeowner because some people have allergies or some people prefer the smell of one cleaning supply over another.
With an online estimate form there could be a place for cleaning product preferences. Some people prefer a certain type or brand of cleaning product in which case the homeowner either provides that to the cleaners, or pays a little extra to have the cleaning company bring that brand of cleaning supply to their home to use.
Online estimates could also be used for seasonal type cleaning chores such as spring cleaning, fall cleaning, extra cleaning before a party or only cleaning the windows or help cleaning out the basement or garage which has accumulated countless years of stuff that must be gone through and separated and eventually tossed out.