Tips for Hiring a House Cleaning Service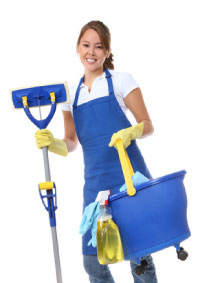 Different cleaning services typically offer many dissimilar types of services. It is in your best interest when searching for a cleaning service company that you consider these different types of services and make sure you get the types of services that fill your particular needs. For example if you only need the bedrooms, kitchen and living room cleaned every other week than you would not need a full-time housekeeper.
It is also very important for a homeowner to ask for references of the home cleaning services company because you want to know that they have done a good job for others and will be doing a good job for you and your home and the best way to do this is by speaking with current customers or former customers. Sometimes companies put testimonials on their websites from satisfied customers however it is a good idea to speak directly to a customer who has used a cleaning service to make sure they are satisfied and any reputable cleaning company would be happy to supply references.
Something else that is very important for someone considering hiring a house cleaning service would be to check the companies insurance and make sure they are covered against accidents because accidents do happen and you want to make sure that the house cleaning service is insured against anything that might happen.
Other questions to ask a cleaning service company would be is if the same person would be cleaning your home every week. It would be nice to have the same person every week or every other week because then they would get to know your home and what you like and don't like about a cleaning about how you like your home. Additionally they would know which rooms were off-limits such as a home office. Another important question is who will supply the cleaning supplies? Will you as the homeowner have to supply all the cleaning supplies especially the special kinds such as oven cleaners or bathroom cleaners?
Furthermore, what type of products will be used in your home if the cleaning service company supplies the chemical products to clean your home? Are they eco-friendly and child and pet friendly? You want to make sure that your family is safe from harsh toxins so questioning what type of products are going to be used to clean your home is within reason. There are many environmentally friendly cleaning products available on the market today and if you are supplying the cleaning products it might be worth the little bit extra money to put your mind at ease by having the cleaning crew use these environmentally safe products.
Other questions that could be asked involves seasonal cleaning such as Spring cleaning where the windows in the lines need to be cleaned or the refrigerator or oven may need to be cleaned. Does this cleaning service offer these once in a while cleaning services? If so how much extra is based cleaning services and can maybe done on a regular visit or do they need to have a separate cleaning schedule?
By receiving answers to these questions, it will give you a better idea of what to expect when a cleaning service comes to your home and could improve your relationship with a cleaning company and the employees and help to prevent disagreements later on.